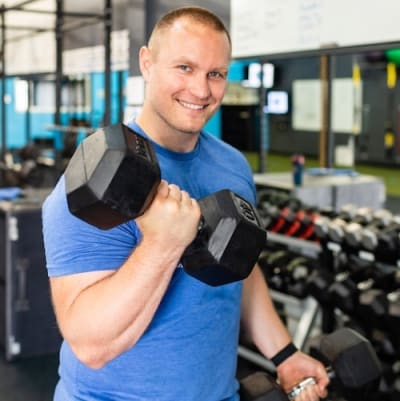 Trevor Warnke
Trev is co-owner of GCP and got his Bachelor's in Exercise Science from Central College. He first fell in love with fitness by using it to become a good high school football player and to work towards playing college football. An injury from lifting wrong stopped him from playing college ball and stoked his passion to teach people on how to do it right. His passion in fitness is helping people learn the step by step process to achieve their health and fitness goals.
GET TO KNOW THE COACH
Pickup sports. I love playing pickup basketball, spikeball, bags and throwing with my nephews and nieces.
FAVORITE HEALTHY FOOD / MEAL
FAVORITE UNHEALTHY FOOD / MEAL
Cold Stone Ice Cream (sweet cream + cotton candy with Heath bars)
WHAT GOT YOU INTO THE INDUSTRY
Playing football growing up. I loved improving my skills and getting stronger to be a better football player. It amazed me how by putting in the work I could be better than the rest.
Modern Family. I so wish I was Phil but realistically I'm Jay.
Nutrition especially overeating on sweets. I've always been very disciplined but stress builds up year after year. I have struggled with my nutrition all my life and still fall back on sweets as a stress coping mechanism.
Resiliency. Whether it's in business, fitness or nutrition I never give up. I get knocked back a step often but no matter if something doesn't go great I never ever stop trying to find a way to be a better version of myself. I have never once said, I'll get back to my nutrition next month or I'll workout when I have more time. I always keep adjusting regardless of circumstances.
Trust the process. Your goal will not come overnight. It's going to take time to achieve whatever your goal is, trust the process that consistency over time will help you achieve anything.
The programs are creatively designed to help achieve many different goals while still being fun and challenging. You never get bored because there is enough variation and it can always be harder if you put in the effort.
CERTS:
NSCA-CPT (adult personal training)

NSCA-CSCS (strength and conditioning)

IYCA-YFS1 (youth specialist)

IYCA-HSSCS

(high school strength coach)

IYCA-YSN (youth sports nutrition)

PN LEVEL 1 (nutrition certification)

FMS LEVEL 1 (movement correction specialist)