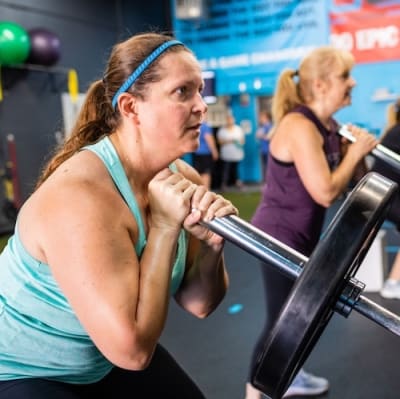 Dorothy Such
Dorothy is a former client who always loved fitness. She one was of GCP's first members.
GET TO KNOW THE COACH
FAVORITE HOBBY

Checking out new breweries.

FAVORITE EXERCISE

FAVORITE HEALTHY FOOD / MEAL

Crockpot chicken with diced potatoes and roasted mixed veggies

FAVORITE UNHEALTHY FOOD / MEAL

WHAT GOT YOU INTO THE INDUSTRY

After joining a big box gym for a New Year's resolution several years ago, I fell in love with fitness and getting stronger. As other people noticed that I was getting stronger, they started asking me questions and I really enjoyed sharing my knowledge.

FAVORITE TV SHOW

Toss up between The Office, Supernatural, and Schitt's Creek

BIGGEST STRUGGLE

Nutrition. Mostly eating too big of portions. I think part of that is still residual from Basic Training and needing to eat A LOT and quickly in order to have enough energy in the field. I'm still relearning to focus on quality, not quantity of food.

BEST STRENGTH

Finding the positive in every situation.

FAVORITE QUOTE

"If you change the way you look at things, the things you look at change." and

"Our lives change when our habits change."

QUICK FIT TIP

Focus on progress, not perfection.

FAVORITE THING ABOUT GCP

The family environment and positivity of others around you while working out.